Welcome to Kahani!
Our artisan scents are inspired by nature, art, wanderlust, storytelling, and the vibrant cultures around the world. Our candles are vegan and cruelty-free and made with 100% natural soy wax and phthalate-free fragrance oils infused with essential oils. We hand-pour our sustainably resourced soy wax candles in small batches, so every candle is unique. We use only the finest ingredients to bring you the best quality eco-friendly candle with the health of our customers and planet in mind. But, most importantly, we give a portion of our sales to donate to charitable organizations that share our values to provide relief for our homeless neighbors and other charitable causes that are close to our hearts.
So, let the flame kindle and the story begin.
Don't Forget Your Greeting Card!
Sending a gift? Add a cute and quirky greeting card inspired by pop and South Asian culture. Just let us know what you'd like to say in the text box at check out and we'll write your message in your greeting card purchase for you.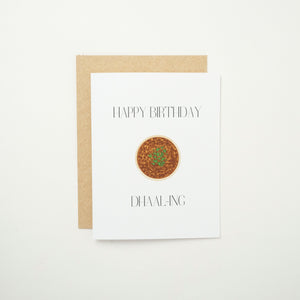 Buy a candle, donate to charity.
For every purchase, we will donate a portion of your sale to a charitable cause.